It's been an interesting month with the different DTRPG Sales, as they've been rotating a new sale on a weekly basis. This week is a Cyberpunk Sale, so, let's find the deep price plunges.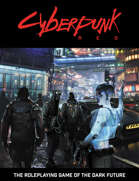 Cyberpunk Red
marked down to 7.50
from 30.00 - Cyberpunk RED is the latest edition of the classic tabletop roleplaying game of the Dark Future and encompasses everything you need to explore the post-War world of the Time of the Red, including:
A dense, deep-dive into the history and geography of Night City and the greater Cyberpunk world, and plenty of the lore about the Time of the Red.
Ten unique Roles for you to play: charismatic Rockerboys, lethal Solos, quick-hacking Netrunners, inventive Techs, lifesaving (and taking) Medtechs, hard-hitting Medias, duty-bound Lawmen, scheming Execs, clever Fixers, and range-riding Nomads.
A huge collection of useful tools, powerful weapons, protective armor, and gleaming cyberware to help you rule the Street.
Three Screamsheet adventures to show you what Cyberpunk is all about.
Pregenerated opponents perfect for populating the Combat Zones and Corporate compounds, plus encounters that use them to bring the City to life.
Altered Carbon: The Role Playing Game - Core Rules - 4.99
from 24.99 - In the
official Altered Carbon role playing game based on the hit Netflix series, wear any body you can afford, transmit your mind across the cosmos in an instant, and, if you've got the credits and political cachet, re-sleeve time and again for centuries, accumulating enough wealth and power over the millennia to become the societal equivalent of an immortal god. Welcome to Bay City.
Included inside the Core Rulebook, you'll find:
Rules to play Archetypes ranging from Socialites to Soldiers.
Explore the expansive metropolis Bay City in both its criminal Underground, and vaunted Aerium world of the immortal meths.
A highly customizable Trait and tech system.
Storytelling-focused rules, that help create dramatic tension inside of combat and intrigue outside combat.
The means in which to transfer your characters digital consciousness into a new sleeve should they come to a tragic end.
Opponents ranging from unhinged augmented thugs to cunning and manipulative political adversaries.
Carbon 2185 | A Cyberpunk RPG Core Rulebook - 4.90
from 24.48 - Play as a Cyberpunk, a rebel refusing to live life by the rules of the oppressive megacorporations that rule San Francisco in this high action tabletop roleplaying game by Robert Marriner-Dodds. Carbon 2185 gives you the chance to play in the cyberpunk worlds you've seen in movies, television shows, and video games. The Core Rulebook is the only thing you need to run and play hundreds of hours of games in the world of Carbon 2185. Carbon 2185 is a brand new tabletop roleplaying game built using the D&D 5e open game license, with all the magic, magical items, and fantasy elements removed, and replaced with cybernetic augmentations, upgradable and customizable weapons, and computer hacking skills.
The Tavern is supported by readers like you. The easiest way to support The Tavern is to shop via our affiliate links. The Tavern DOES NOT do "Paid For" Articles and discloses personal connections to products and creators written about when applicable.
DTRPG, Amazon, and Humble Bundle are affiliate programs that support The Tavern. You can catch the daily Tavern Chat cast on Anchor, YouTube, or wherever you listen to your podcast collection. - Tenkar