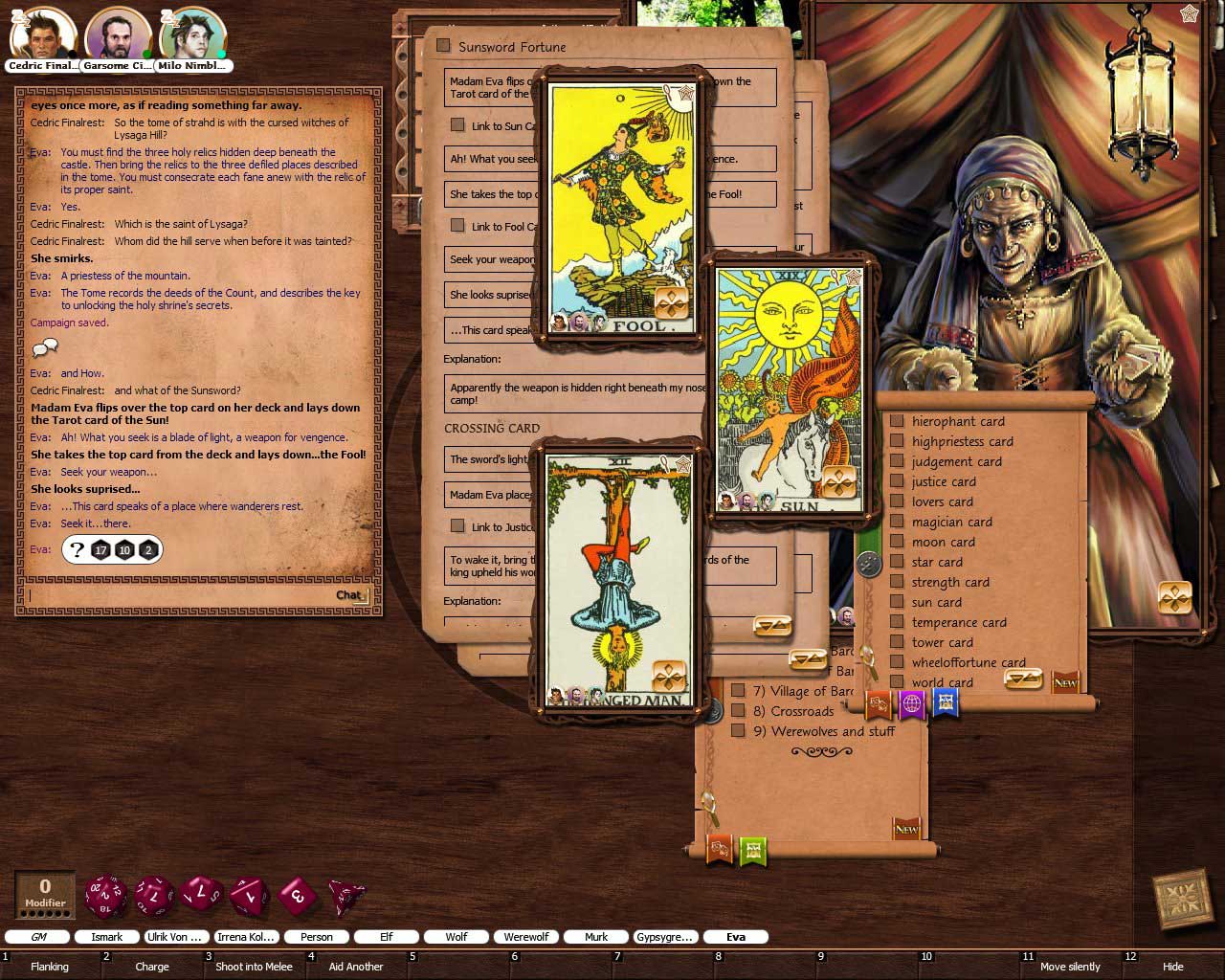 After some discussion with a few of the members of the "Friday Night B-Team" I started to think about what I would want from my ideal online Hangout styled gaming session. The list below is NOT all inclusive, I am sure, nor is it written in stone. It has been on my mind, more or less, for a while tho'. It is fairly focused on Roll20, which is what I use these days, but if one package offered all that I wanted, I'd jump VTTs in a heart beat. I can be such a whore ;)
- Character sheets much like those found in Fantasy Grounds 2, including clickable macros right from the sheet. Damn, that would be an excellent way to speed things up. Damn shame FG2 chokes on the session set up side if you don't know programing, but as a player it does a great job streamlining stuff.
- Every adventure published in PDF form should have an unkeyed "player's map". Even those with "teleport traps" and the like. With a dwarf or gnome in the party, they will know they've been moved. We'll just start revealing from a new map. I can't describe room dimensions and the like well enough when I'm gaming face to face - I suck even more when doing video hangout sessions.
- Simple to set up and use "dynamic lighting". Sure, I don't use tokens in my RPG sessions, but if we had simple to set up and use dynamic lighting, I'd include a token for the party. I'd much prefer this to "Fog of War & Reveal", as this would show the party where they were yet still require them to make an accurate map on their end. Player side mapping is an often forgotten skill.
- Drop down menus for damn near everything. Drop down menus that don't cover up 40% of your screen. Drop down menus that are user editable. Drop down menus for the win.
- WTF is it with screen real estate? Allow the user to set the font size and side bar size and pop up menu size. I have a 27" screen I run my sessions from and Roll20's pop up menus and side bars take up way too much screen space.
- Truly random random dice. too many 20's and too many 1's. It's a programing issue.
- Awesome looking visual dice like Fantasy Grounds. No one has come close before or since.
- Voice and video that allows for whispers and split parties. Sure, I'm asking for a lot, but hey, it's my list. During face to face games I've taken players out of the room to keep events in private when the party is split, or someone has been charmed / doppleganged / cursed and the like. To be able to easily do so online in a manner that does not use chat text would be great. Not a must, as it's use would be infrequent, but still useful.
- I've yet to find a simple and useful way to play background noises for the players - I'm pretty sure Roll20 has the feature. I may just need to experiment more. What I would really like is a simple drop down menu with the sound clips I choose with the session in mind - fighting in the distance, a door slamming, chains dragging and the like. Shit, now that I think of it, I'd REALLY like this. The possibilities are truly epic.
- 3d graphics and walls. Just because.