Zucati Dice & Crayons / Holmage Dice Boxed Set is a release that hadn't come up on my radar, and if it wasn't for a long time Taverner PMing me the link, I'd still be clueless. That being said, I'm not 100% sure of what exactly it is I'm seeing.
Note, the set clocks in at 45 bucks plus shipping.
The cover is a spot-on homage to the original Holmes Basic Set without being a copy:
I can find nothing on this "
Dice & Crayons
" release aside from the Etsy page. (edit - it's also available on the publisher's website at:
Note, this is not a stand-alone ruleset, but an adventure generator to use the set of
Zucati
dice with.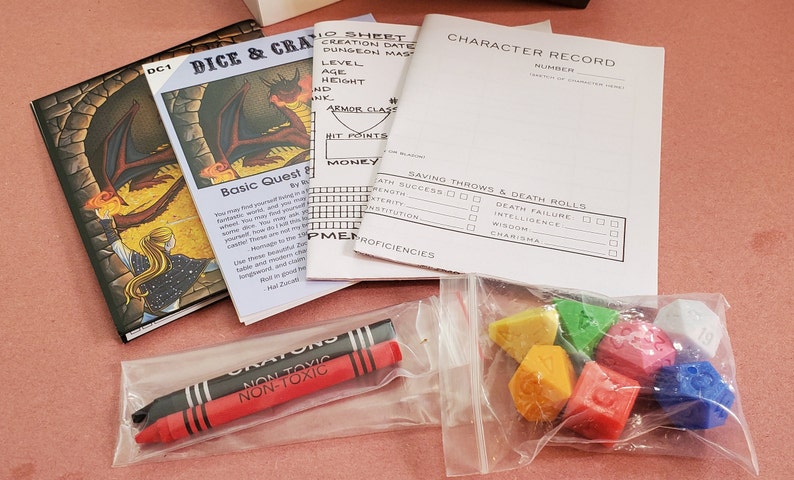 Each limited edition boxed set is serialized and is 1/1000.

All serial numbers will be distributed randomly with no choice for number selection.

Boxed set pictured is #1 of 1000.




Your box will be a different number.




The Holmage dice




These iconic dice pay homage to the most beloved set of dice ever created. The original "Holmes" dice were included in a boxed set of gaming materials made in 1977 – 1980.




These polyhedral dice are perfectly proportioned and updated with easy to read numbers, sharp edges, and modern durable materials.




This new set features the original 5 dice in the same colors, but not the same numbering, updated to modern numbering and also includes the D10 and D% as included dice in other colors. \




All primary colors, all raw.




In modern 100% injection molded acrylic.




Same quality and standards as our first run V1 Perfect Plastic Dice.




Includes original box art, original character sheets and an original map set with adventure generator table.




Named "Holmage" set in honor of the original Holmes dice.
42 sets of 7 dice for 125 plus shipping.
The Tavern is supported by readers like you. The easiest way to support The Tavern is to shop via our affiliate links. DTRPG, Amazon, and Humble Bundle are affiliate programs that support The Tavern. You can catch the daily Tavern Chat podcast on Anchor, YouTube, or wherever you listen to your podcast collection. - Tenkar